Event Information
| | |
| --- | --- |
| Event Date: | 16th April 2018 |
| Venue: | Cadwell Park |
| Event Location: | Louth, Lincolnshire - [ View Map ] |
| Noise Limits: | 105 db |
| Status: | Completed |
Schedule
| | |
| --- | --- |
| Sign On Time: | 07:45 am |
| Briefing Time: | 08:30 am |
| Track Start Time: | 09:00 am |
| Track End Time: | 05:00 pm |
* Above track time is subject to a lunch break & conditions on the day.
Additional Information
Cadwell Park is one of the most interesting circuits in theUK. Nestling in a valley in the Lincolnshire hills it is bothpicturesque and challenging, featuring many changes of gradient. If youhave never experienced driving it, this is your chance.
We have just one session per hour on the full circuit so it will be bemixed ability. Each session lasts 20 mins. We expect each car to haveover 2 hours of track time during the day assuming no stoppages. Please note the MSV
helmet requirements
for this day. We are one of three clubs that MSV has sold sessions to on this day. Whilst we are confident that MSV will run this day alongsimilar lines to normal MGoT days, we are not the prime organiser and so cannot guarantee everything will be the same as usual. However, therewill be several MGoT committee members participating and Dave Pearce will be the MGoT representative on the day. Please address any questions to
DaveP@mgs-on-track.co.uk
InstructionWe encourage all drivers to take the opportunity of instruction withAssociation of Racing Drivers Schools (ARDS) Grade A qualifiedinstructors. We strongly advise all levels of experience to takeadvantage of these, but it is especially beneficial for first time andnovice drivers. Book and pay at the same time you book your place.Please note we are unable to provide more than two instruction sessionsper car. Any additional booked will be cancelled. We regret thatinstruction is not possible in cars that are not fitted with seatbelts. Thereis no 3 session afternoon coaching available at this event.Helmet hireWe have helmets available to hire on a first come, first served basisand these can be booked online at the same time as you book your place.
Second Drivers
You can book to bring along a second driver but we can only allow oneadditional driver per car. The second driver must sit as passengerduring the sighting laps and then perform his own sighting laps at alower speed during his first session on track. If your second driver'sexperience is significantly different to your own, please discuss thiswith
Dave Pearce
.
Details about the day
We will email an event guide with final instructions about a week before the event. Please read it carefully when it arrives. The event guidewill also be posted in the Pit Lane forum under the Cadwell Park thread. We are sorry but this day is only open to MG/Rover registered members,there is no option for compatible makes. Because it is a single sessionall cars must be registered and road legal.You must also bring your full driving license to the sign-on or you maynot be allowed on track.
Booking is only through this website
.
You need to be logged in in to the website to see the 'Book and Pay'button. Use this to make a secure, online payment to guarantee yourplace and extras. Debit and Credit Cards are the only form of paymentmethods we are able to accept.
The MGCC member price will only be given if you have entered your membership number HERE in your website profileBEFORE booking your place. We cannot give retrospective refunds for this.
Enjoy
Who's going
| Driver | Car |
| --- | --- |
| Log in to see driver names | 1998 MG F VVC (183 bhp) - Amaranth |
| | 2003 MG TF 160 Sprint (160 bhp) - Trophy Blue |
| | 2003 MG TF (160 bhp) - Black |
| | 1979 MG B roadster v8 conversion (240 bhp) - Blue |
| | 2003 MG TF 160 (160 bhp) - Blue |
| | 2001 MG F Trophy 160 (160 bhp) - Trophy Yellow |
| | 1979 MG Sebring B GT v8 (250 bhp) - Black |
| | 1973 MG B Roadster (95 bhp) - White |
| | 1978 MG B GT V8 efi (220 bhp) - primrose |
| | 2002 MG ZT (190 bhp) - Silver |
| | 2001 MG ZS (190 bhp) - green |
| | 1993 MG RV8 (190 bhp) - Nightfire Red |
| | 2005 MG TF Spark SE (135 bhp) - Firefrost Red |
| | 1969 MG B V8 (315 bhp) - Metallic Blue |
| | 2003 MG TF (135 bhp) - Grey |
| | 2003 MG ZR (160 bhp) - Trophy Blue |
| | 2001 MG F Trophy 160 (160 bhp) - TROPHY YELLOW |
| | 1973 MG Midget (190 bhp) - Green |
| | 1973 MG Midget (109 bhp) - Damask |
| | 1993 MG RV8 (190 bhp) - Green |
| | 1975 MG B GT V8 (140 bhp) - White |
| | 2003 MG TF 160 (160 bhp) - Le Mans Green |
| | 1976 MG B Roadster (150 bhp) - Atlantic Blue |
Event Manager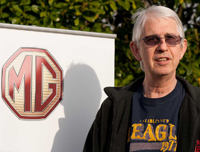 David Pearce
07976 796213
Recent Events.
Cadwell Park
Louth, Lincolnshire
12th April 2021
[
Event Info
]
Goodwood
Goodwood, West Sussex
26th October 2020
[
Event Info
]
Content © 2021 MGs on Track. All Rights Reserved. (Version: 2020.02.23)