Event Information
| | |
| --- | --- |
| Event Date: | 22nd February 2020 |
| Venue: | Goodwood |
| Event Location: | Goodwood, West Sussex |
| Noise Limits: | 98 db |
| Status: | Awaiting Prices |
Schedule
| | |
| --- | --- |
| Sign On Time: | 07:15 am |
| Briefing Time: | 08:15 am |
| Track Start Time: | 09:00 am |
| Track End Time: | 04:00 pm |
* Above track time is subject to a lunch break & conditions on the day.
Prices
Sorry, we do not have price information at the moment.
Additional Information
Goodwood Circuit have a new sales strategy and are now always including hospitality in the cost of the day. This covers Lunch together with Tea and Coffee throughout the day for all drivers and passengers & bacon butties at sign-on! As a consequence the second driver price is higher than our other events and we also need to charge for passengers.
This event will be a four session per hour day. Each session will have 10 cars. We expect each car to have one 1 hour 30 minutes of track time during the day assuming no stoppages. The fourth session will be MMM cars, leaving three sessions for MGoT members.
We have in car Instruction available in the morning and Coaching in the afternoon. The cost for coaching includes three afternoon sessions with the same instructor and gives a great opportunity to focus on any aspect of your driving you wish to develop. Once all the bookings are in we'll assign the sessions on the basis of experience, so that one session will be more suitable to beginners and the less experienced track day drivers, two to intermediates and one to the more experienced. We will email an event guide with final instructions during the week before the event.
Cars must be roadworthy and comply with current MOT legislation. You must bring your FULL driving license to the sign-on, or you may not be allowed on track. All persons going on track must wear a suitable crash helmet of recognised manufacture and have arms and legs covered.
Instruction and Coaching
We encourage all drivers to take the opportunity of instruction with our Association of Racing Drivers Schools (ARDS) Grade A qualified instructors. We strongly advise all levels of experience to take advantage of these, but it is especially beneficial for first time and novice drivers. Book and pay at the same time you book your place. Please note we are unable to provide more than two instruction sessions per car. Any additional booked will be cancelled. To help us schedule the instructor's time between the groups we have separated sessions into three types :-
Sighting Lap Instruction. – This is ideal for first timers, your instruction will be first thing in the morning during the sighting laps whilst there is no overtaking and cars are running at a slower pace. This allows plenty of time for the instructor to describe and guide you along the best line through the corners. There being no overtaking, you don't have the additional task load of keeping an eye in your rear mirror for approaching cars.
Novice Instruction - This is our standard instruction, carried out through the morning novice group sessions. Please book this only if you are a novice or first timer.
Advanced & Intermediate Instruction – This is our standard instruction, carried out through the morning intermediate and advanced sessions. Please book this only if you are Experienced or Somewhat Experienced.
Coaching
MGoT is pleased to offer an opportunity to develop specific areas of your driving skills and so to increase your track day enjoyment. Before you spend any more cash on improvements to your car consider this. MGoT will now offer drivers, dedicated, one-on-one coaching with an ARDS instructor for your entire afternoon track time. Places will be limited and the cost is an unbelievable £40! Book and pay at the same time you book your place by selecting the coaching option.
Helmet Hire
We have a number of helmets available to hire on a first come, first served basis and these can be booked online at the same time as you book your place.
Second Drivers
You can book to bring along a second driver but we can only allow one additional driver per car. The second driver must sit as passenger during the sighting laps and then perform his own sighting laps at a lower speed during his first session on track. If your second driver's experience is significantly different to your own, please discuss this with Nigel Silman (NigelS@mgs-on-track.com)
Details about the day
We will e-mail an event guide with final instructions during the week before the event, please read it carefully when it arrives. This event guide will also be posted in the Forum under the Goodwood 23rd February thread. You need to be logged in to the website to see the 'Book and Pay' button. Use this to make an online payment and secure your place. Debit or credit cards are the only payment methods that we are able to accept.
To get the MGCC member's price, you must add your MG Car Club membership number to your website profile HERE before booking.
Please email any questions about this day to the Event Manager at NigelS@MGs-on-track.com
Who's going
| Driver | Car |
| --- | --- |
| No bookings at present. | |
Event Manager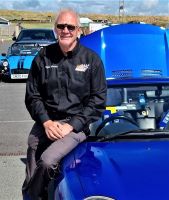 Nigel Silman
Recent Events
Goodwood
Goodwood, West Sussex
28th October 2019
[
Event Info
]
Donington Park
Castle Donington, Derby
7th October 2019
[
Event Info
]
Content © 2019 MGs on Track. All Rights Reserved. (Version: 2019.06.24)