Event Information
Goodwood MMM Session
| | |
| --- | --- |
| Event Date: | 22nd February 2020 |
| Venue: | Goodwood |
| Event Location: | Goodwood, West Sussex |
| Noise Limits: | 98 db |
| Status: | Completed |
Schedule
| | |
| --- | --- |
| Sign On Time: | 07:15 am |
| Briefing Time: | 08:15 am |
| Track Start Time: | 09:00 am |
| Track End Time: | 04:00 pm |
* Above track time is subject to a lunch break & conditions on the day.
Additional Information
PLEASE ONLY BOOK INTO THIS SESSION IF YOU OWN AND ARE BRINGING A MMM CAR. ALL OTHER BOOKINGS WILL BE REMOVED.
Goodwood Circuit have a new sales strategy and are now always including hospitality in the cost of the day. This covers Lunch together with Tea and Coffee throughout the day for all drivers and passengers & bacon butties at sign-on! As a consequence the second driver price is higher than our other events and we also need to charge for passengers.
This event will be a four session per hour day. Each session will have 10 cars. We expect each car to have one 1 hour 30 minutes of track time during the day assuming no stoppages.
We have in car Instruction available in the morning and Coaching in the afternoon. The cost for coaching includes three afternoon sessions with the same instructor and gives a great opportunity to focus on any aspect of your driving you wish to develop. Once all the bookings are in we'll assign the sessions on the basis of experience, so that one session will be more suitable to beginners and the less experienced track day drivers, two to intermediates and one to the more experienced. We will email an event guide with final instructions during the week before the event.
Cars must be roadworthy and comply with current MOT legislation. You must bring your FULL driving license to the sign-on, or you may not be allowed on track. All persons going on track must wear a suitable crash helmet of recognised manufacture and have arms and legs covered.
If you wish to book instruction or coaching, please contact the event manager as Instructors will only travel in cars with seat-belts fitted and this may exclude many MMM cars!
Helmet Hire We have a number of helmets available to hire on a first come, first served basis and these can be booked online at the same time as you book your place.
Second Drivers You can book to bring along a second driver but we can only allow one additional driver per car. The second driver must sit as passenger during the sighting laps and then perform his own sighting laps at a lower speed during his first session on track. If your second driver's experience is significantly different to your own, please discuss this with Nigel Silman (NigelS@mgs-on-track.com)
Details about the day We will e-mail an event guide with final instructions during the week before the event, please read it carefully when it arrives. This event guide will also be posted in the Forum under the Goodwood 23rd February thread. You need to be logged in to the website to see the 'Book and Pay' button. Use this to make an online payment and secure your place. Debit or credit cards are the only payment methods that we are able to accept.
To get the MGCC member's price, you must add your MG Car Club membership number to your website profile HERE before booking.
Please email any questions about this day to the Event Manager at NigelS@MGs-on-track.com
Who's going
| Driver | Car |
| --- | --- |
| Log in to see driver names | 1974 MG Midget (120 bhp) - red |
| | 1978 MG B Roadster V8 (150 bhp) - Green |
| | 1932 MG J2 Midget (36 bhp) - blue |
| | 1932 MG J2 Midget (46 bhp) - Red |
| | 1935 MG 6 Magnette (80 bhp) - GREEN |
| | 1931 MG C REPLICA (50 bhp) - BLUE |
| | 1934 MG TF Spark SE (100 bhp) - red |
| | 1931 MG C-Type (25 bhp) - Dark blue |
| | 1933 MG Midget (50 bhp) - Black |
| | 1980 MG 3 (150 bhp) - Red |
| | 1972 MG B GT (120 bhp) - Red |
| | 1935 MG J2 Midget (50 bhp) - Ivory |
Event Manager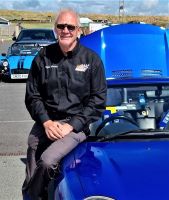 Nigel Silman
Recent Events.
Croft
Croft-on-Tees, North Yorkshire
3rd July 2020
[
Event Info
]
Content © 2020 MGs on Track. All Rights Reserved. (Version: 2020.02.23)